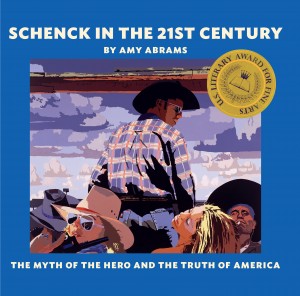 Published in 2013, this volume contains 190 images of paintings, caption drawings, caption photos and caption paintings produced by Billy Schenck from 2000-2012.  The book has received the 2013 U.S. Literary  Award for Fine Arts.    It also won True West Magazine's "Best of the Western Books for 2014" Award in the Modern Western Art Category.
The text by Amy Abrams features his life and career in its entirety along with a complete bibliography. From the book jacket: "…Wild West shows, country-western crooners, rodeo stars and six-guns Hollywood westerns, the all-American hero saved the day-and the girl.
The paintings, prints and photographs of artist Bill Schenck debunk the longstanding myths of the cowboy and his country, while celebrating what's truly magnificent about America-the land.
In the 1970s, while the 24-year-old artist was living and working in New York City amid Andy Warhol's entourage and the Pop art scene, western movie stills inspired a series of paintings that catapulted Schenck to fame. Appropriating "cowboy and Indian" icons with a Pop art sensibility, Schenck set in motion an entire genre- Contemporary Western Art. In the decades that followed, his work has been showcased in 97 solo shows and included in 41 museum collections worldwide. The subject of six museum retrospectives, Schenck's work is also in prominent public and celebrity collections across the globe.
Today, the artist calls a sprawling ranch outside Santa Fe, New Mexico home. No "drugstore" cowboy, Schenck holds prestigious equestrian national and state championship titles and provides professional ranch sorting events in his rodeo arena. More prolific than ever, he is creating paintings and prints with a bolder palette that place him at the apex of his career. In various media, the artist continues interpreting the people and places that comprise America. Always innovative, radical at heart, Schenck reveals what's real, what's not, and more than ever, what's at stake in the United States."